About us
FOUNDER
That Indian culture is one of the most ancient cultures, there can be no doubt. It can also safely said that it is possibly the oldest tradition surviving and going strong. Greek, Roman and Egyptian civilizations were remarkable, but they have disappeared into the pages of history. Today, you have to visit a museum or the site of a ruins to view these civilizations. Not so the centuries old Indian traditions. A look at our people, their every day life, religion and practices will reveal that our ancient civilization is alive and kicking. Culture, religion, spirituality, literature, medicine, astrology, you name it. These are areas that we dominated. You don't have to look into the history books to read about them. They are still around us. Every human being born in this exalted land is in some way involved in perpetuating our ancient culture, without his/her knowledge. It can be safely predicted that once a person gets to know about our ancient Jyotish shastra, he will fall in love with it. BHAKTHIPLANET.COM aims at enhancing your curiosity in astrology, numerology, vaasthu, religion and spirituality, literature, cinema and news, in general.
Each section in BHAKTHIPLANET.COM is manned by an expert in the field. Our founder, Sr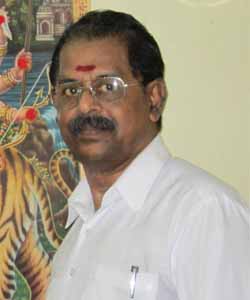 i V.G.Krishna Rau, is a leading exponent of astrology, with an experience spanning over four decades. His articles have appeared in various newspapers. Numerous are the personalities, including leading lights in the field of politics, cinema and business who have benefitted by his advice. Sri Krishna Rau will oversee the astrological component of our website. Web browsers can send their queries to us. All your questions will be answered and your doubts set at rest by our team under the guidance of Sri Krishna Rau.
E-mail: bhakthiplanet@gmail.com
EDITOR
Vijay Krisshna Rau G, Editor of BHAKTHIPLANET.COM, is personally incharge
of the section on Vasthu. He is an expert in the field of Vasthu. He has been researching the subject of Vasthu and has been writing articles on it since his teens. His first article on Vasthu appeared in the magazine, "Maadha Jyothidam," when he was only 15-years-old. Since then he has contributed numerous articles on the subject to various periodicals. We can boldly say that it was only after he started writing about Vasthu that it became a fashionable subject. In fact, it can be said that it was only after he started writing about Vasthu that its popularity soared in the public domain. His Vazhamtharum Vasthu series, in the popular Kumudam Publications' Bhakti Special, further established his name as an authority on the subject. He has also contributed articles of great insight to the website Kumudam.com, enhancing his reputation. Sri Vijay Krishna Rao is also the author of Vasthu Sasthram, a best-seller published by Mannora Publications, which has been translated into English and is now into its second edition. Vijay krishnarao will contribute regularly to our website.
E-Mail:  editor@bhakthiplanet.com
                bhakthiplanet@gmail.com
www.facebook.com/vijaykrishnarao
DEPUTY EDITOR
Ms. Niranjana is the Deputy Editor of BHAKTHIPLANET.COM. She is a specialist in religion and philosophy, and has compiled series of articles to various periodicals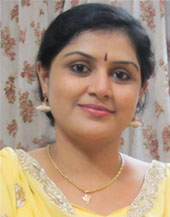 on these two subjects. Her first article on the subject appeared in Maadha jyothidam, after which she has written in many leading magazines catering to our culture, religion and traditions. She writes in a simple style, in what is certainly a heavy subject, a facet that has endeared her to many readers.
Ms. Niranjana is the author of books, Rajayoga vazhimuraigal and Vazham therum deiveegal ragasiyangal. Some more books are on the pipeline. Her articles on numerology in Kumudam Publications were widely acclaimed and earned her the name, "Ennkannitha vithagi," that is, Wizard of Numerology.  Now she will write exclusively for BHAKTHIPLANET.COM
Many other experts will contribute to our website. With your cooperation, we assure you, we will venture into several other fields and scale new heights. 
E-Mail: editor@bhakthiplanet.com