Weekly Horoscope Rasi Palan | 22.01.2018 to 28.01.2018
Astrologer, Sri Durga Devi upasakar, V.G.Krishnarau.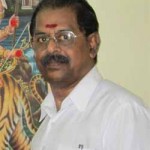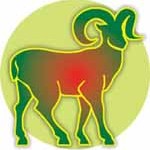 Mesha rasi/Aries: Journeys are foreseen. Good opportunities will come in search of you, thanks to your friends. Overseas contacts will bring huge benefits. Litigation, if any, will be to your advantage. Those in the legal field will earn fame and money. Worship Lord Muruga.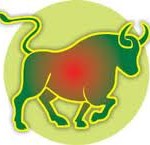 Rishaba/Taurus: Benefits will come through your women's circle. Your family's happiness will make you joyful. Inherited property will bring you benefits and help you to progress. Distant journeys and overseas contacts will be beneficial. Job opportunities are foreseen. Husband and wife relationship will be excellent. Worship Sri Marutheeswarar.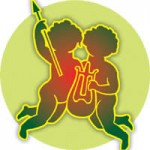 Mithuna/Gemini: Employees will get the promotion they expect. You will get to know the opportunities for progress. Problems created by enemies will disappear. There will be no problems in financial-inflow. Try your best to think about how to save money. Your health will progress very well. Worship Sri Mahalakshmi.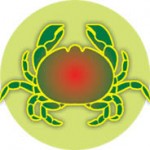 Kataka/Cancer: You will complete your work enthusiastically. You will get opportunities to progress. You have the yogam this week to buy a house or a piece of land. Do not poke your nose into other people's affairs. Some of you will get the job of your choice. Worship Lord Venkateswara of Tirumala-Tirupati.

Simha/Leo: : Financial-inflow will be good. Also, think about saving to the extent possible. Businessmen can expect their desires to be fulfilled. Problems in lending and borrowings will end. You will get good news regarding marriage alliance. Employees will be held in high esteem at the workplace. Worship Lord Shiva.

Kanni/Virgo: Problems at home will end. Distant relatives will come in search of you. You will exchange old goods for new ones. Those searching for a matrimonial alliance will get a good match. Circumstances will force you to go for a loan. Worship your Kula deivam, Family deity.

Tula/Libra:  People living overseas will help you. Your influence will go up among your friends. A marriage alliance will be settled. You will achieve what you want. You will experience an unexpected good turning point. You will be introduced to new friends. You will succeed in whatever you do. Worship Sri Kamakshi Amman of Mangadu.
Vrischikam/Scorpio: You can start this week whatever you have been planning to do. Auspicious events will take place in the family. Good opportunities will come in search of you. You will succeed in whatever you do. Obstacles to marriage will be removed. Students will get opportunities to study overseas. Worship Sri Sai Baba of Shirdi.

Dhanush/Sagittarius: You have the yogam to go overseas. Good turning-points are foreseen. Though increased profits are seen in business, businessmen should still be careful. Do not put too much trust in new-comers. Those in the business, related to the building industry, will make profits to an extent. Worship Srimad Narayana/Perumal.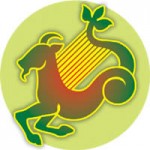 Makara/Capricorn: You will buy household needs. Some of you will get the chance to go for higher studies. Friends will help you to get benefits. Those looking for employment will get job opportunities, while those already in employment will make good progress. Financial-inflow is foreseen. Worship Sri Maha Kali.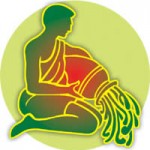 Kumbha/Aquarius: You will make good progress, thanks to new friendships. Long-standing problems will end. You will get the blessings of saints. You will buy luxury products. Litigation, if any, will be successful. You will somehow manage to free yourself from any problem. Worship Sri Durga Devi.

Meenam/Pisces: Financial affairs will be good. Employees will get a good position in the workplace. Your health will see improvement. You will be able to fulfil the needs of your family members. This is a lucky week for those in the field of arts. Worship Sri Kamakshi Amman.
 Send your feedback to: editor@bhakthiplanet.com
For Astrology Consultation Mail to: bhakthiplanet@gmail.com
For Astrology Consultation Contact: Astrologer, Sri Durga Devi upasakar, V.G.Krishnarau.  Phone Number: 98411 64648, Chennai, Tamilnadu, India
http://www.youtube.com/bhakthiplanet
http://www.facebook.com/bhakthiplanet
For Astrology Consultation CLICK Here
If you have found any of the information provided on our site of benefit, value, learned something, appealing or useful, consider a donation to support the site and to assist with its growth.
All donations are deeply appreciated. If you would like to make a donation, you can pay securely through PayPal below.

© 2011-2018 bhakthiplanet.com  All Rights Reserved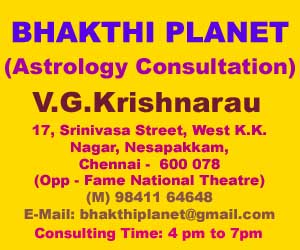 Posted by
V.G.Krishnarau
on Jan 21 2018. Filed under
Astrology
,
Astrology
,
Bhakthi planet
,
EBooks
,
English
,
Headlines
,
கட்டுரைகள்
,
கதம்பம்
,
செய்திகள்
,
முதன்மை பக்கம்
. You can follow any responses to this entry through the
RSS 2.0
. Both comments and pings are currently closed.